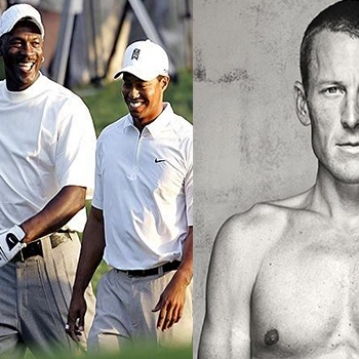 While taking in for the umpteenth time the ESPN special "The Last Dance," a 10-part documentary chronicling the 1997-1998 Chicago Bulls, the impact Michael Jordan had on his sport and on the lives of those who were in his orbit was obvious. His immense talent and drive to win were exceeded only by his ability to singularly focus on a goal – many times at the cost of personal relationships. In fact, the unstated but obvious point the documentary makes, (even if it is mostly a valentine to MJ), is how he would sacrifice any and all relationships in his relentless pursuit of championships. Nowhere do you see an interview with MJ's then – or current – wife; his children make but cameo appearances. and even other family members, loving and supportive as they are, shy away from commenting on any of his personal foibles. Whether intentional or not, the producers leave us with the impression that to cross Jordan, be you family or friend, is to risk permanent banishment from his life.
Which got me to thinking, is this trait unique to him?
Answer: No. The week following the conclusion of the Jordan documentary, ESPN (they excel at this type of work) aired a two-part special on Lance Armstrong. Leaving aside how you may feel about what he did, the fact remains the man literally got off his deathbed to become a worldclass cyclist. I realize it's hard to parse the titles from the needles, but the overriding theme (apart from his petty vindictiveness) was his relentless drive to win. He did so at the expense of his marriage, his business relationships and – eventually – his own reputation. Anyone who got in his way was removed, ignored or demolished in an effort to succeed. Whether one believes this TV special was an exercise in reputation reformation is up to the viewer; personally, I still think Armstrong comes off appearing manipulative and less than contrite, but his will to win is undeniable.
Which leads me to the next sporting icon, a contemporary of Armstrong, and Jordan's defacto protégé, one Eldrick "Tiger" Woods. Let me preface this comment by stating I am a fanboy of the first rank when it comes to his play – but not his life. He reached heights never seen in the golfing world, but did so (stop me if you've heard this line) at the expense of friends, associates and his own reputation. In Tiger's case it was a situation where he did as he pleased before he was caught, but it was also in part because he was driven from a young age to become an immortal. Well, he succeeded, and his place on golf's Mt. Rushmore is assured, along with Bobby Jones, Ben Hogan and some guy named Nicklaus.
Every one of these guys achieved a common denominator of unparalleled excellence, but at a high personal cost; maybe the price of aiming so high is that few can make the climb with you. To be fair, all three men have reached a sort of equanimity in their lives: MJ remarried, has a second family and is by all accounts a model dad. Armstrong has been with the same woman for over 10 years and is engaged to her; his relationships with his children appear to be solid. Tiger reinvented himself as the comeback kid, and is possibly more beloved now that when he was winning at a ridiculous pace. So, good for them; but in their stories is a cautionary tale about success and its high price. I'm reminded of Midas, the mythical figure whose touch turned everything to gold, but who in the end was left alone be cause of that very gift.
It's like the old proverb goes: Be careful what you wish for – you just may get it.