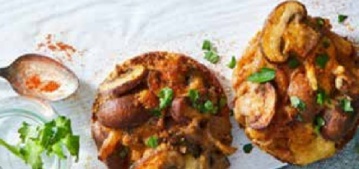 The classic, cheesy open-faced sandwich from Wales gets a hearty plant-based makeover using beans and mushrooms for a base. The vegan rarebit topping can be prepared up to three days ahead so it's ready to top toasted muffins. Serve it for a light dinner or a cozy brunch, or slice for a tasty holiday or game-day appetizer.
INGREDIENTS
• 1 8-oz. pkg. sliced fresh button or Cremini mushrooms

• 1 onion, thinly sliced (1 cup)

• ¼ teaspoon dried thyme, crushed

• 1 15-oz. can Great Northern beans, rinsed and drained (1½ cups cooked)

• 2 tablespoons Dijon-style or English mustard

• 2 tablespoons nutritional yeast

• 2 tablespoons cashew butter or almond butter
• Sea salt and freshly ground black pepper, to taste

• 4 English muffins, split and toasted (Whole Foods/Trader Joe's have vegan brands)
• Paprika
• Chopped fresh parsley
INSTRUCTIONS
1. In a large skillet combine mushrooms, onion, thyme, and 1 cup water. Cover and bring to a simmer over medium. Simmer 10 minutes or until mushrooms and onion slices are tender. Uncover and cook 1 to 2 minutes more or until most of the liquid has evaporated.
2. Meanwhile, in a blender combine the next four ingredients (through nut butter) and ½ cup hot water. Cover and blend to a smooth sauce.
3. Stir sauce into mushroom mixture. Simmer 1 to 2 minutes or until thickened. Season with salt and pepper.
4. Preheat broiler. To assemble, place toasted English muffins on a baking sheet. Top with mushroom mixture. Broil 4 to 5 inches from heat for 4 to 5 minutes or until lightly browned on top. Sprinkle with paprika and parsley.