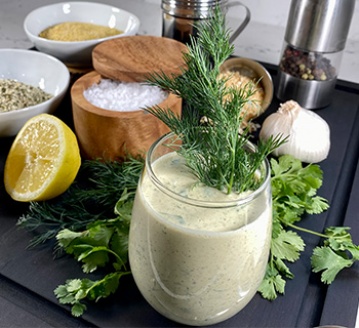 A Perfect and Classic Recipe for a Raw-Vegan Tasty Caesar Salad
DRESSING INGREDIENTS
• 1/3 cup raw cashews (unroasted and unsalted), soaked for at least four hours and drained
• 3 tablespoons nutritional yeast
• 3 cloves garlic, peeled

• 3 tablespoons fresh squeezed lemon juice
• 1/4 teaspoon salt

• 1/8 teaspoon black pepper

• 1 teaspoon dulse granules (seaweed)

• 1 tablespoon caper juice
• 1/4 to 1/2 cup water as needed
SALAD INGREDIENTS
• 1-2 heads fresh romaine
• 2 tablespoons shelled hemp seeds (hemp hearts) added at end
• 2 tablespoons capers

• Very thin sliced red onion
TOPPING INGREDIENTS
• Brazil Nut Parmesan:
• 1 cup raw Brazil nuts
• 3-4 tablespoons nutritional yeast
• 3/4 teaspoon onion powder

• 1/4 teaspoon garlic powder

• 3/4 teaspoon sea salt

• Cherry Tomatoes (optional)
PREPARATION STEPS
1. Soak Cashews four-six hours, drain.
2. Blend all DRESSING ingredients together in a high-speed blender till smooth. If the dressing is a little thick, add water or lemon juice by the tablespoon until it reaches consistency and taste you like.
3. Brazil Nut Parmesan: In a small food processor, blend all the Brazil Nut Parmesan ingredients INTO A CRUMBLE and use to sprinkle on top of dressed Caesar Salad.
4. Cut and prepare romaine, add capers, thinly sliced red onion, hemp hearts and top with tomatoes and Parmesan
5. Tomatoes (optional): Cut cherry tomatoes in half, season with Italian herb mix, sea salt and nutritional yeast and warm in dehydrator three-plus hours.
Hope you enjoy!
Notes: Leftover dressing will keep in an airtight container for up to four-five days in the fridge.