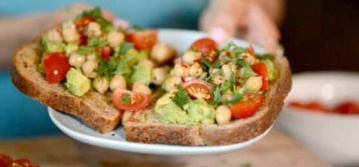 INGREDIENTS
• 1 large avocado
• 1/2 cup cherry tomatoes, chopped
• 1/4 cup garbanzo beans
• 1/2 lemon

• 1 tbsp. olive oil

• 1 tbsp. parsley

• 1 tsp. red pepper flakes

• Salt and pepper to taste

• 2 slices plant-base bread or lettuce leaves (i.e. Ezekiel bread)
PREPARATION

• Slice avocado in half, and remove the pit. Cut into cubes, and pour the cubes into a bowl. Add salt and pepper, and squeeze lemon juice into the bowl. Mix thoroughly.
• Toast the bread. Once the bread is toasted, drizzle olive oil on the bread before adding other ingredients to the avocados.
• Scoop the avocado mixture onto the bread.
• Garnish with cherry tomatoes, garbanzo beans, minced parsley, and red pepper flakes.
• Enjoy!
Makes 1 serving

Recipe courtesy of People for the Ethical Treatment of Animals (PETA) which is the largest animal rights organization in the world with more than 6.5 million members and supporters. Visit PETA.com for more information.